C
ondos have grown in stature to represent the pinnacle of urban luxury. Four real-estate brokers explain how.
TORONTO

"The Toronto condo market has exploded over the last 10 years," says , Senior Vice-President of Sales in Toronto at Sotheby's International Realty Canada. "The demand is so high that prices have doubled in a decade."

Much of this demand still comes from first- time owners those for whom the traditional- ly lower-price range of condos was a necessary early concession. But a new segment of buyers has entered the foray, too. And they want to cut no such corners.

"The luxury condo market saw some of the highest increases in 2019," notes von Bretten. "Empty nesters and young professionals with families choose the simplicity of condo living over low-rise homes."

Simple? Maybe. But unfettered? Certainly not. "New condos are focusing on resort-style living [with] rooftop gardens and swimming pools, ice rinks, dog walks, fully staffed spas and electric- car chargers," says von Bretten. "The most important amenities are co-working spaces, kids' playrooms and state-of-the-art fitness facilities."

In a city where new developments are appearing everywhere, a few stick out, some literally. Pinnacle's Sky Tower at One Yonge is the tallest residential tower in Canada, at a staggering 95 storeys. Meanwhile, Untitled Toronto Condos in midtown is turning heads by co-branding with the world's "Happy"-est musician, Pharrell Williams.

Such rapid growth is keeping older developments on their toes. Lavishly renovated buildings can be found throughout the city, but there's great value also in refurbished developments such as Harbourfront, City Place and St. Clair West. But just like other offerings in Toronto's ultra-competitive housing market, condos are playing fast and fierce, so it's important for buyers to stay focused.

"It is imperative to choose a very reputable developer," warns von Bretten. "From realtors to lawyers and bankers, a strong team will help you to avoid pitfalls. After all, cheap is expensive!"
​​​​​​​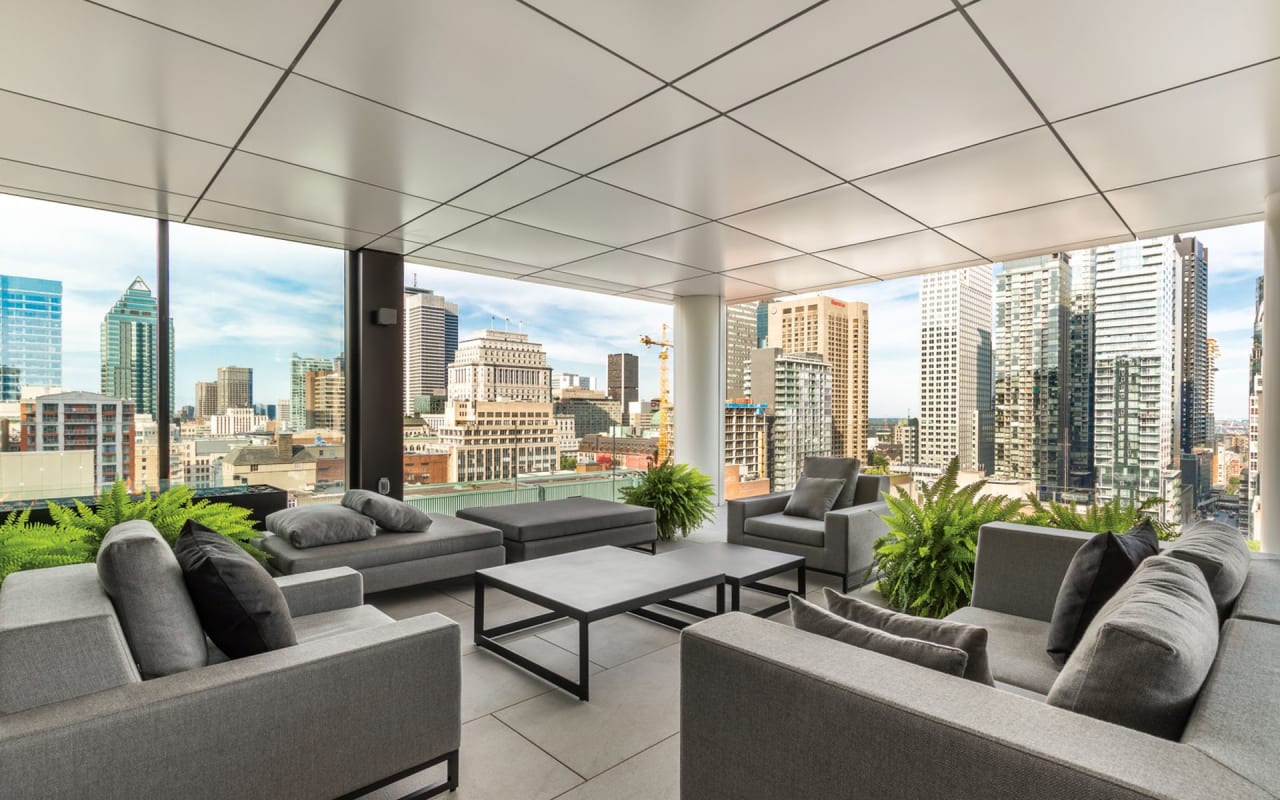 ​​​​​​​MONTREAL

"In the last four to five years, the number, density, quality and price range of new projects have all significantly increased," says Sotheby's International Realty Quebec Broker , referring to Montreal's condo market. Long a cultural hub, the city has a wide range of strong options for prospective high-end buyers.

On the top tier, it's difficult to beat the recently opened Four Seasons Private Residences Montreal Penthouse Collection. "The Four Seasons [luxury] 'ecosystem' is such an exclusive project," Girard enthuses. "[There are] two penthouses on the top 18th floor level — 8,182 [and] 8,969 square feet. [Both come] with five-star hotel amenities and services, as well as a direct connection to the new Holt Renfrew Ogilvy [department store]."

Priced within the range of $6.5 million to $8.5 million, these penthouses represent the peak of the market. But the new is not all that is noteworthy in Montreal.

Take Habitat 67, the Brutalist residences designed for Expo 67 by world-famous architect Moshe Safdie. A recent renovation by local firm Rainville-Sangaré has taken the heritage building boldly into the new century. Elsewhere, storied co-op buildings such as Acadia, Château Port-Royal, Linton, Embassy Row and Le Penfield all represent intriguing opportunities, though not without risk.

"These co-ops had very high construction standards at the time, [but] they need meticulous work to keep them in perfect condition," notes Girard. "But based on their quality and location, many people are willing to consider them."

Montreal's days as a more affordable alternative to Toronto and Vancouver may be fading, but deals can still be had in the Golden Square Mile within Pine Avenue and Atwater Street, René-Lévesque West Boulevard and the area near the McGill University campus.

​​​​​​​Elsewhere, Royalmount, an upcoming project in the city centre, will offer commercial offices, entertainment amenities, malls, restaurants and an aquarium, as well as some 45,000 condo units.
​​​​​​​

CALGARY

Calgary's real-estate market is ripe for the taking, and which has a complex set of circumstances that have made it a fertile condo environment. "Condo prices have certainly declined since the peaks of 2014," says , Senior Vice-President of Sales in Sotheby's International Realty Canada's Calgary office.

As those prices declined, many developers switched their high-rise business model to capture an increased interest in rentals. But now that rents are also on the rise, Richardson predicts that "in 2020 we will see a resurgence back into the entry-level condo purchase market, where renters see the value in ownership versus rental."

In other words, strike while the iron is hot, and this includes luxury high-rises. "Luxury condos are definitely on the rise," Richardson points out, noting too that the stunning Concord along the Eau Claire River is leading the charge with private elevators and garages within the building's parkade. "Baby boomers are selling their larger homes and wanting to move to 'lock and leave.' Both apartment-style (1,500 square feet on one level) and attached homes (mainly bungalow-style) are becoming increasingly popular at the luxury level. For example, in the upscale community of Aspen, there is a new attached-villa project selling in the 1.5-to-2-mil- lion price range that I expect [will] sell out."

Within the high-rise-condo market, builders are trying to attract millennials by offering lots of amenities — party rooms, fitness centres, pool tables, common kitchens and barbecue areas, even dog showers in the parkades.

But although Calgary is a market rich with potential deals, Richardson warns against a savings-at-all-costs approach because lower condo fees shouldn't be driving a buyer's deci- sion. "Many very well-run condos have higher fees, as they have stronger reserve funds, plus [they] cover more amenities [and] utilities than other options," she says. "It's not always an apples-to-apples comparison."

VICTORIA

The tech boom in this city is no longer a big secret, nor is the fact that its real estate is tracking closer and closer in desirability to that of Vancouver, the priciest in Canada. And much like the rest of the country, condos here are accounting for more and more of real-estate offerings.

"In 2018 we saw a total of 4,273 new home starts in Greater Victoria, the highest since 1976," says , Senior Vice-President of Sales at Sotheby's International Realty Canada.

"Of those, 3,069 were apartment units. Tech now accounts for 5.9 percent of employment in Victoria and is probably a large factor in this boom."

Large but not only. That's because Victoria — with its mild winters and idyllic pace of life — remains a retiree's dream.

"As an aging boomer population moves towards simplicity, demand for luxury condos has strengthened," MacLeod says. "In particular, this is evidenced by the Songhees [waterfront's] Bayview-Roundhouse development, a master- planned 20-acre waterfront development worth $1 billion with nearly 1.5 million square feet of mostly luxury development."

Examples of high-end extravagance in town include Shutters, which boasts a large pond and outdoor swimming pool with ocean views, and Customs House, whose luxury units come with climate-controlled wine walls with full-height tempered glass.

Elsewhere though, amenities reflect a more modest, green lifestyle characteristic of Victoria. Bicycle storage, car-share memberships, electric vehicle charging stations and rooftop patios are common, especially among micro-units (approximately 500 square feet). However, while the city offers a terrific opportunity for millennials and empty nesters alike, MacLeod warns buyers to not underestimate life in more confined spaces.

​​​​​​​"Down-sizers sometimes run the risk of downsizing too much," she says. "Buyers moving from a single-family home to a condo are also sometimes overwhelmed by the rules and requirements of strata living. We often suggest that people hire a company to do an analysis of strata documents, especially the depreciation report, prior to purchasing."
---