W
ith 'staycations' on the rise, more and more homeowners are designing and creating their very own backyard retreats, complete with high-end outdoor flat screen televisions, luxurious all-weather furniture, chic accessories, gorgeous outdoor kitchens, and luminous lighting. Designers have truly set the bar in terms of landscaping and décor and we are pleased to share some top-notch design and décor tips for creating an outdoor space you'll never want to leave. To begin, you should think of your backyard as a true extension of your home–where lounging, cooking, and entertaining seamlessly intertwine. Just as you plan for designing and decorating the interior of your home, it is essential to create a solid plan of action before you start shopping for your backyard oasis-to-be. Think about colour schemes – neutral colours should be the mainstay, with one or two bright accent colours to make your space pop, style – will your décor be modern versus country, and of course, a list of elements you'd like to include – such as a fire bowl, TV, and pond. Once you have your plan, it's time to look at your options, in terms of furniture, lighting, landscaping, and accessories.
​​​​​​​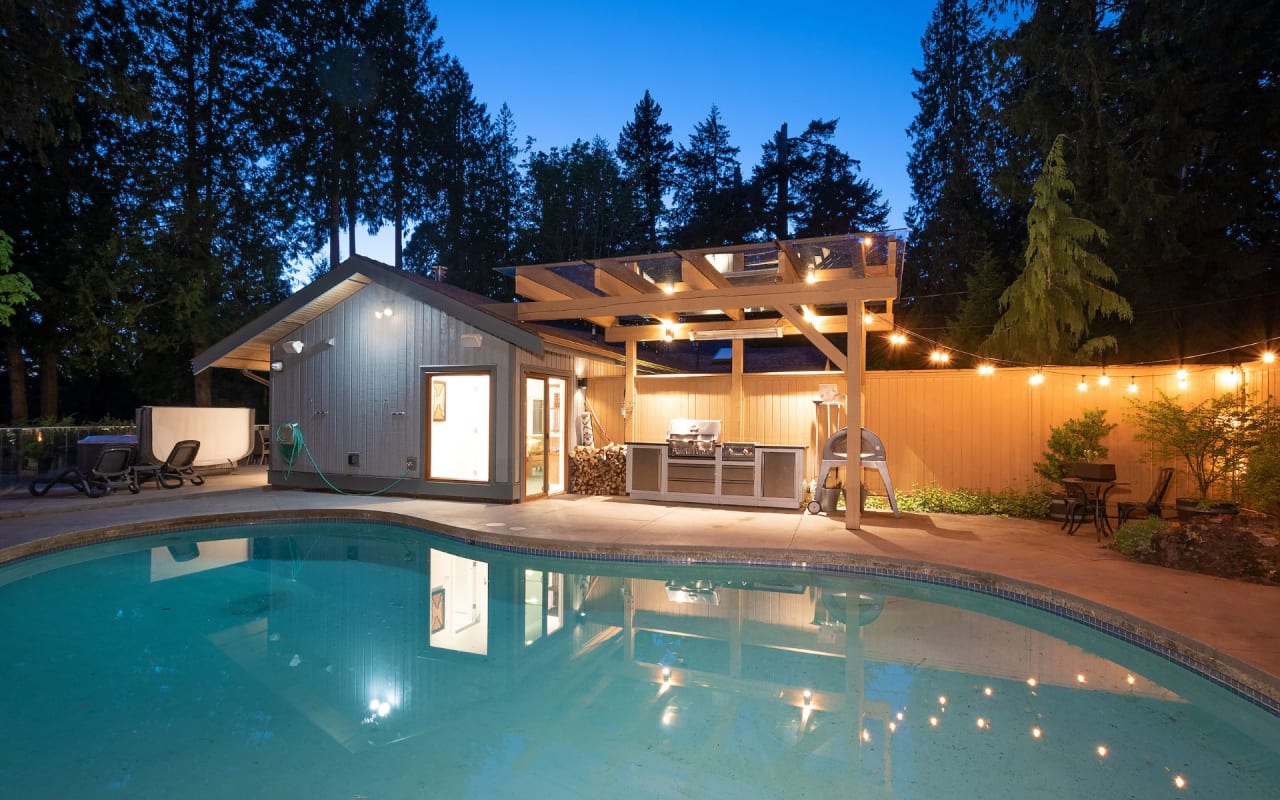 LIGHTING

Good lighting can provide any outdoor space with a radiant ambiance that is sure to please. There are vast options to choose from in terms of outdoor lighting, including string lights that add a sense of whimsy, outdoor sconces, spotlights that can be used to highlight trees and other backyard features, chic Japanese-style lanterns, floating lights – for those who wish to illuminate their pools and/or ponds, and much more. Don't forget to light the way to your backyard retreat with pathway lighting. You can choose from large lamps to small, hidden bulbs. While it is generally recommended that you hide the sources of your pathway lighting, there are some beautiful lamps that can enhance the overall esthetics of your pathway. As a general rule for selecting and installing lamps, you should choose a softer, non-glaring bulb to achieve a more natural look. With all of these excellent lighting choices, it's easy to brighten up your home's exterior and excite the night.

Lighting Placement When installing your lights, you should highlight distinctive property features or light for safety reasons. Think of places such as between the steps of your stairs, on railings, underneath benches, and on tables. Use your creativity: showcase your favourite tree by placing spotlights underneath them, hang lanterns above the yard in different shapes and sizes or place rock-shaped lights in and around your garden to create a soft glow around your plants and flowers.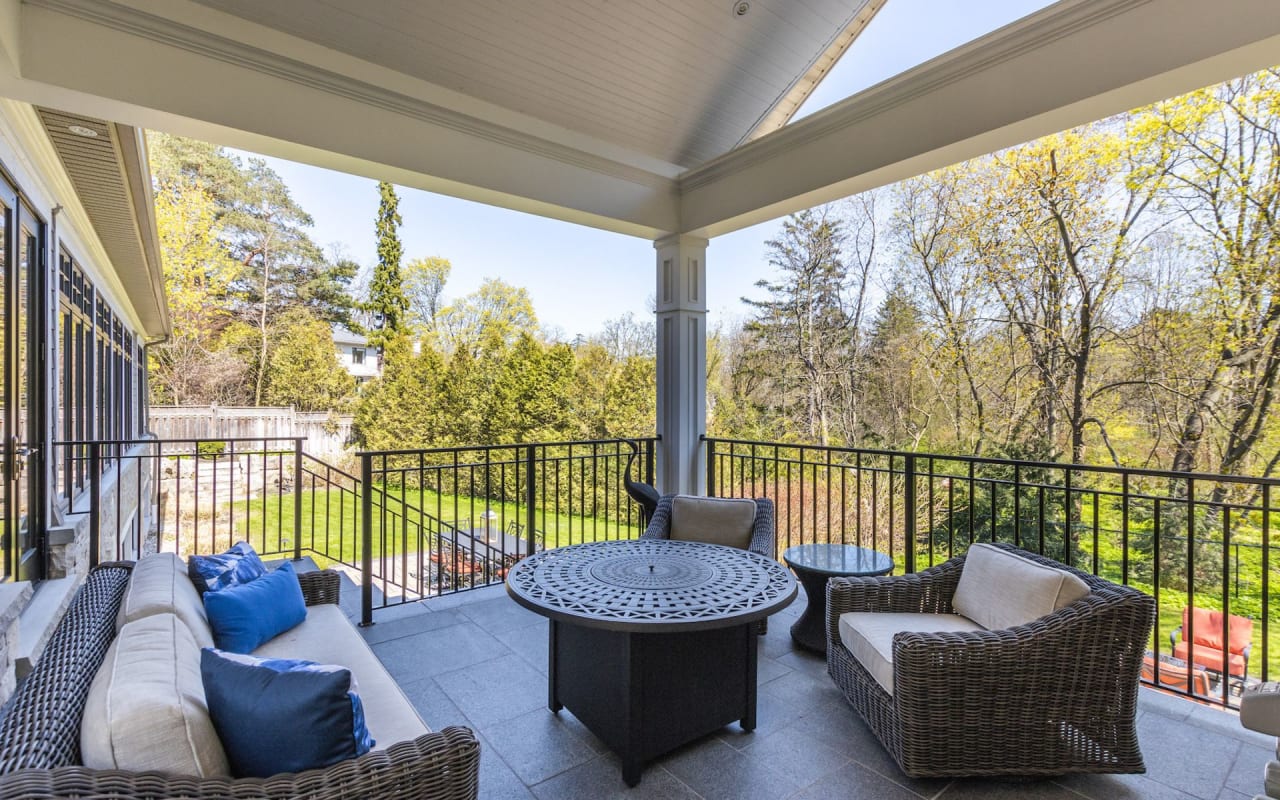 ​​​​​​​FURNITURE

When it comes to relaxation, nothing seems to compare to that feeling you get when you sink into your favorite soft, cushy chair. Give yourself that very same feeling outdoors, by placing chairs with cozy cushions around your deck. You can give your yard a pop of colour by using all-weather, brightly coloured cushions and pillows. Even better, bring a little spring into your yard with this season's top colours: sorbet yellow and key lime green. The best furniture you can place around your backyard to make it more inviting are chaise lounges, cushioned chairs, simple side tables and, of course, a dining table – all come in an aesthetically pleasing variety of shapes, sizes, textures, and colours.

Value-add: Cabanas To boost your exterior space's upscale retreat factor, you can create your very own private cabana by hanging white or colourful fabric from your arbor. If you have a pool, it is recommended that you use lounge-like, all-weather furniture and cushions that are low to (or on) the ground, so to add a sense of "Zen" to your outdoor escape.

Furniture Arrangement The place where food is prepared – be it a simple barbeque or pro-level outdoor kitchen – is the place where everyone gathers. Place the majority of your furniture, dining table and chairs, next to or near the area. Placing your furniture around the barbeque is sure to fill your yard with good conversation, while feasting on fabulous summer meals.
​​​​​​​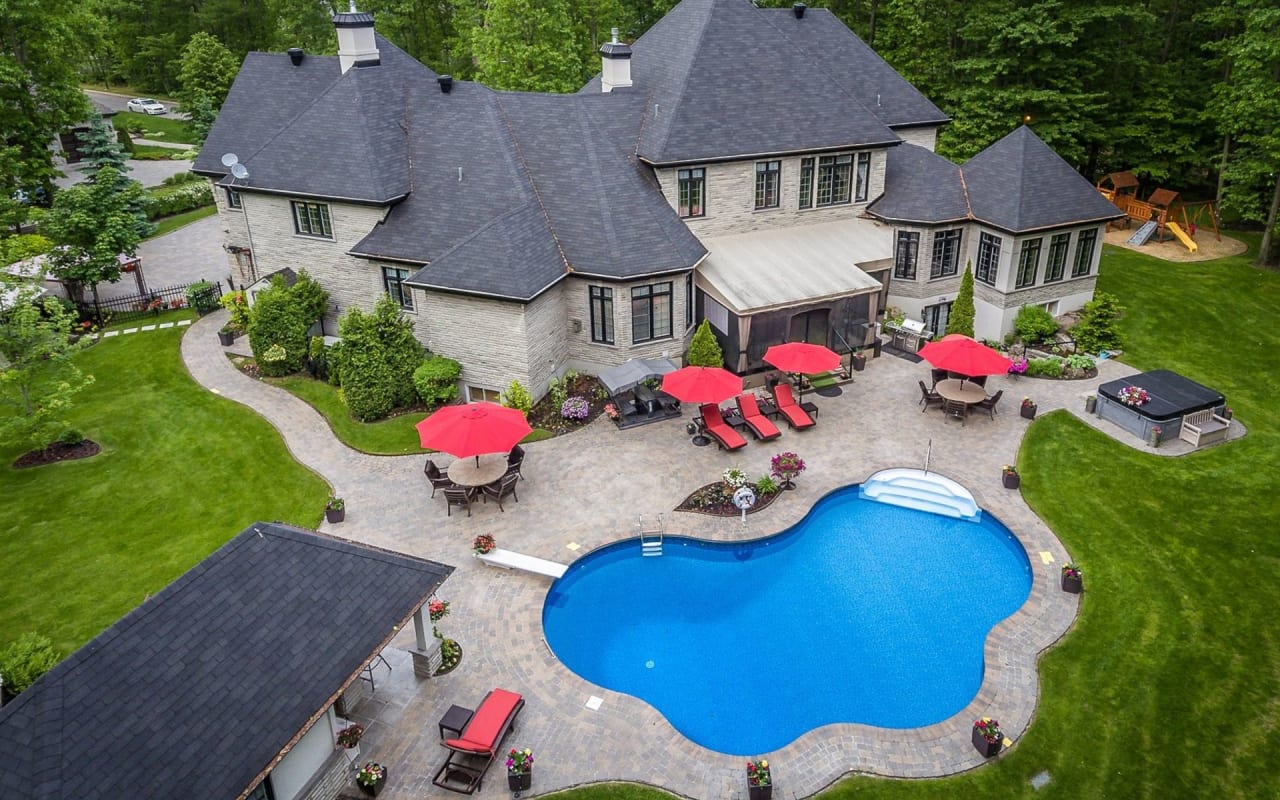 ​​​​​​​LANDSCAPING

Everyone's home, both interior and exterior, is unique. When you are selecting the layout of your landscape along with the types of shrubs and flowers you want to include, you should feel free to use as much creativity as you wish. With that noted, it is also important to consider the size and shape of your yard, and about what you will be using your yard for before selecting your landscaping and décor options.

Flowers & Shrubs No matter how large or small, every yard needs flowers, as they truly bring any outdoor space to life. Whether you plant a full garden or strategically place pots of flowers and plants around your home's exterior, your flowers will add a lovely pop of colour and texture to your space. One landscaping trend that's on the rise–for both economic and environmental reasons–is the popularity of flowers and plants that are easy to maintain and that bloom every spring and summer. Why not place some potted flowering perennials around your pool, on your deck, or beside your fence? Perennials can thrive in a single container for years, which makes them a highly sustainable and gorgeous option.
​​​​​​​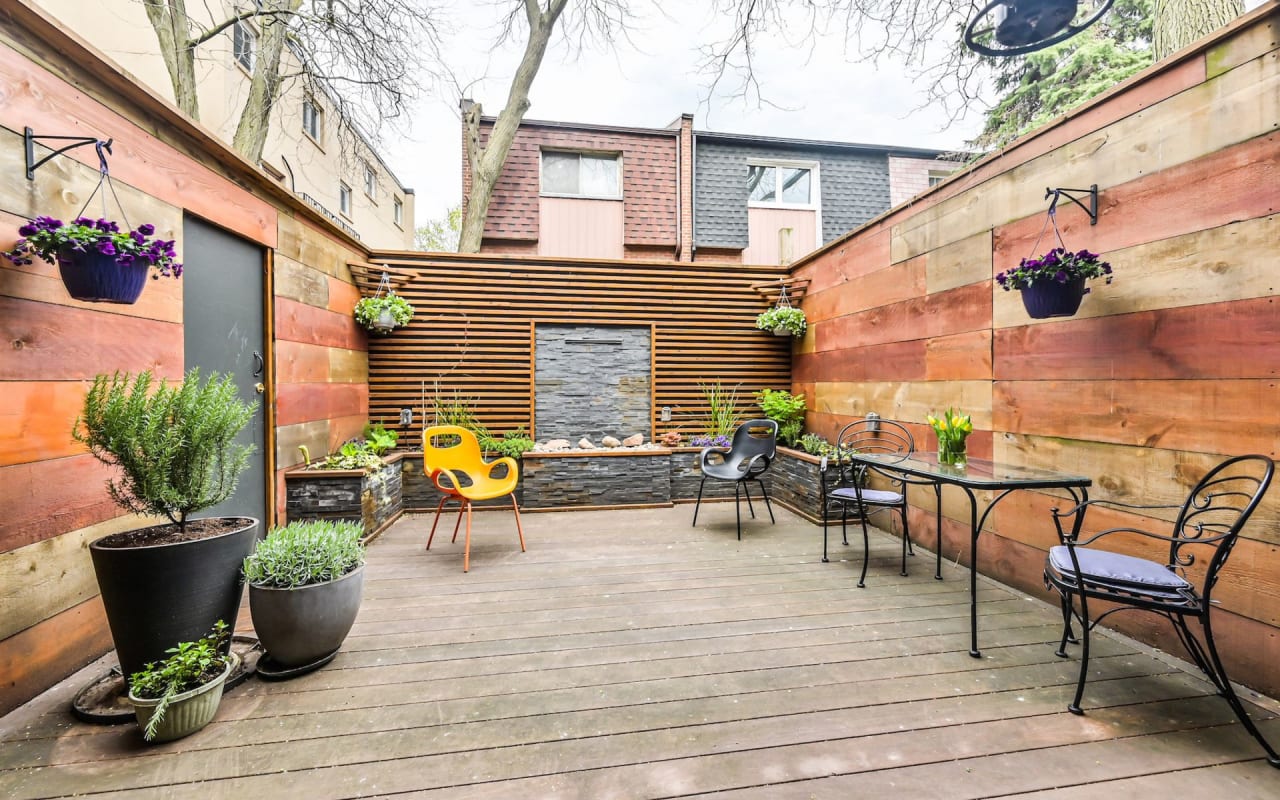 ​​​​​​​Water Features There are few things in life that are as peaceful as the sound and sight of flowing water. Water has a natural calming and soothing effect – which is why there are so many ponds, streams, fountains, birdbaths, and pools in gardens around the world. Moreover, these zen-encouraging water additions can also deaden the sound of unwanted noise from neighbours and street traffic – which makes adding a water feature to your yard a surefire way to transform it into a truly relaxing retreat.
---
---