A
well-designed living room is a social hub. It invites guests and family members to pause and come together, to enjoy a glass of wine by the fire, to curl up side-by-side with the latest best-sellers. A living room is also a reflection of your personality and tastes: do you prefer a cozy, rustic design, or a subtle palette of trendy neutrals? A minimalist, mid-century modern vibe or a dramatic, Victorian-inspired look? Whether you're redecorating or starting fresh in a new home, take inspiration from these five gorgeous living room design ideas.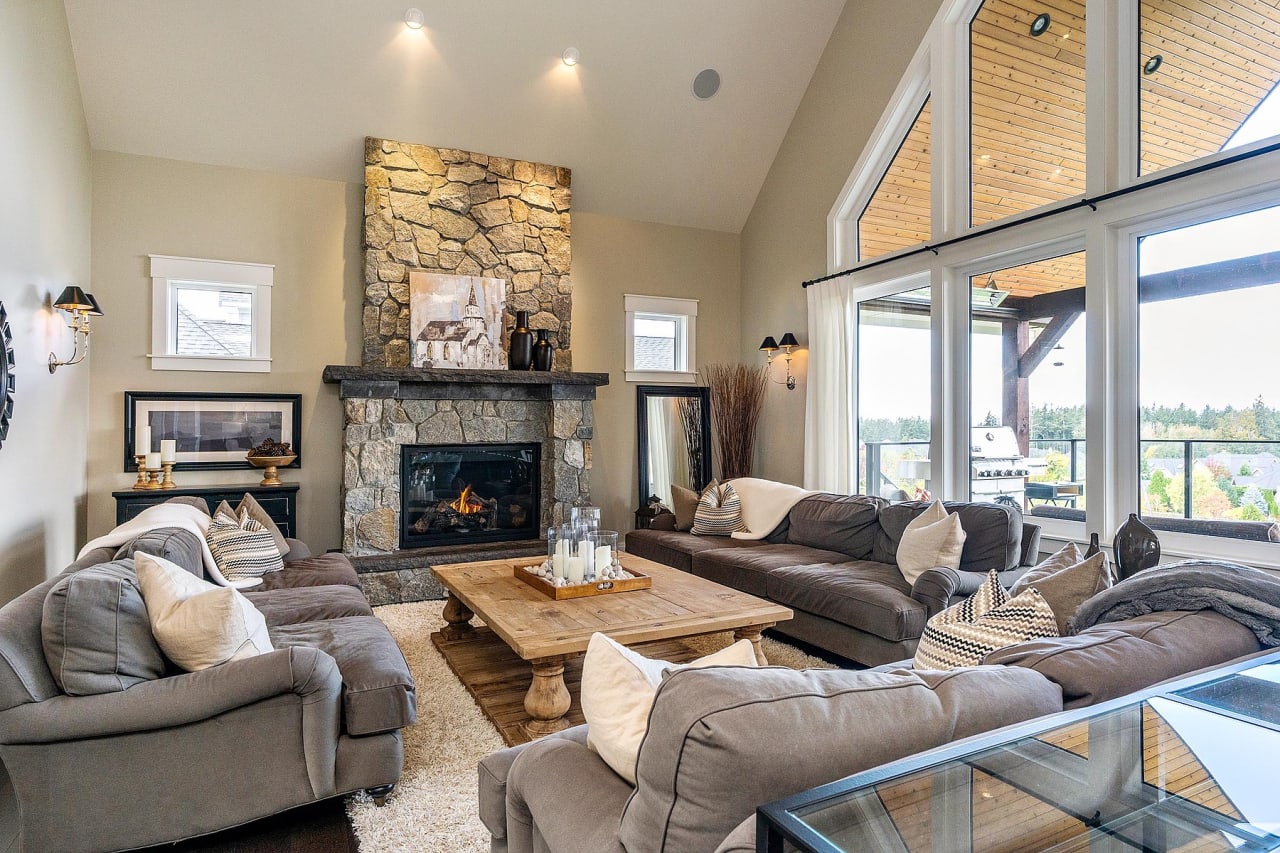 ​​​​​​​Farmhouse style living rooms are hugely popular, and it's easy to see why. This relaxed, easygoing approach to design results in a room that's welcoming for any crowd, and makes a comfortable place to put your feet up after a long day. To get the look, start with a white wall—painted panelling is a perfect fit. Then, add furniture and accents in mismatched prints and patterns, but stick with one colour theme to unify the room. A large area rug and plenty of throw pillows will soften even the most austere space, and a vintage trunk can double as a coffee or end table. Warm lighting and rustic wall hangings complete this style.
Design tip: Stick to neutral colours, light woods, and plenty of white for a more modern farmhouse look.

​​​​​​​Ornate & Bold​​​​​​​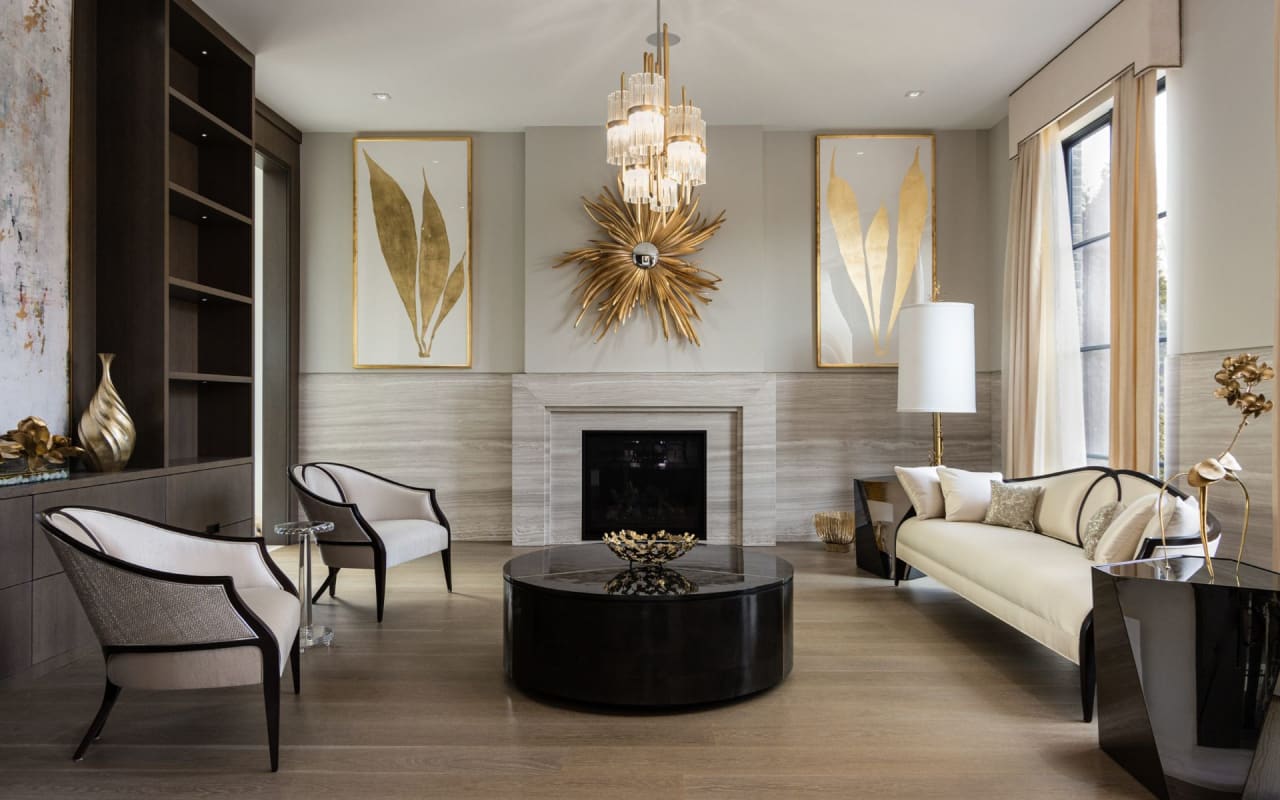 ​​​​​​​For a luxurious, dramatic living room design, try painting the walls in hues of dark plum, mahogany, or even black. To avoid overpowering the rest of the house, keep the remainder of your design light, with white, cream, and metallic accents as counterbalance. For added flair, invest in ornate, Victorian-inspired furnishings in solid, neutral colours. Thick, floor-length curtains add a hint of theatricality.

Design tip: If dark hues have you nervous, start with an accent wall to help you discern whether you're ready for the leap.

​​​​​​​Scandinavian Minimalist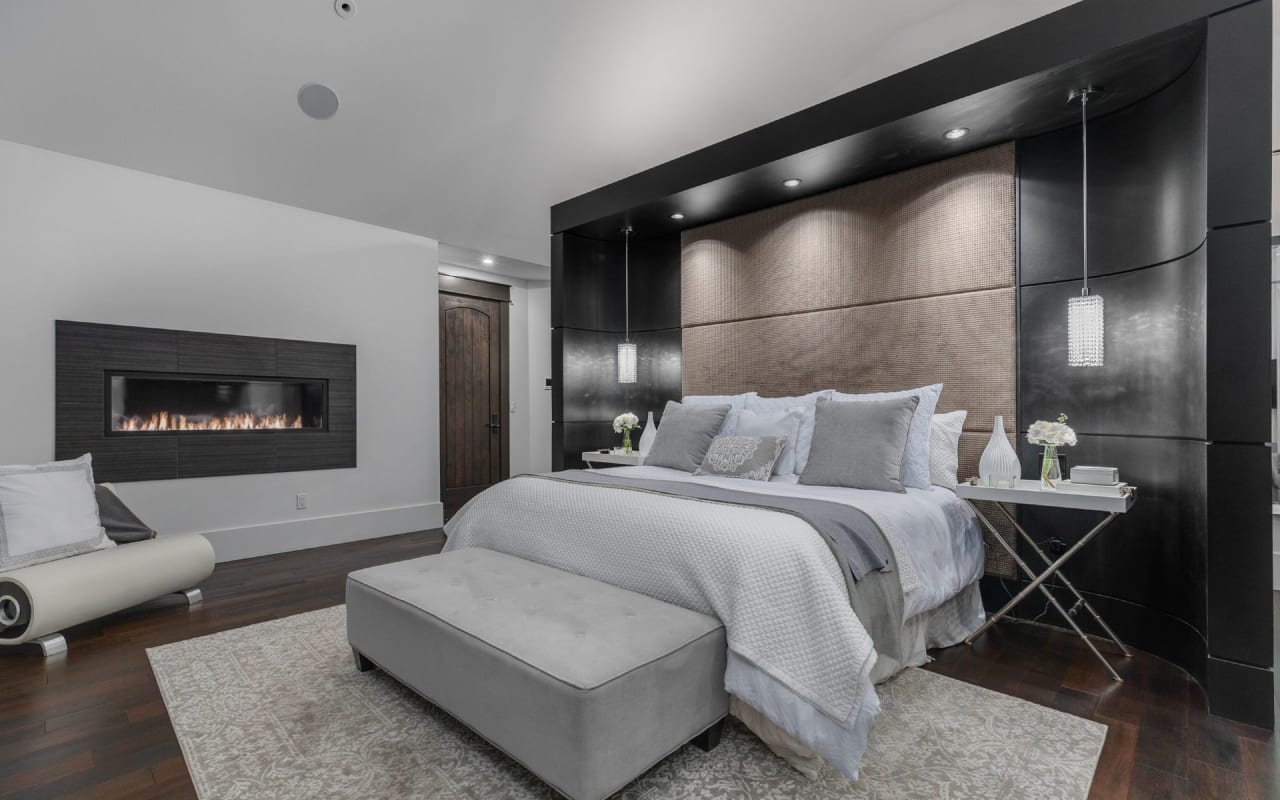 ​​​​​​​A minimalist, Scandinavian-inspired living room design is a timeless choice that works well in nearly any space. For the purists, stick to white or light grey throughout, with understated furnishings, pine accents, and simple, clean lines. Add personality with unconventional lighting. On snowy nights, a basic concrete wood-burning fireplace will transport you to the woods of northern Finland.

Design tip: Add a candle or two or a soft throw in a neutral hue for a truly hygge experience.

​​​​​​​Grown-Up Boho Chic
​​​​​​​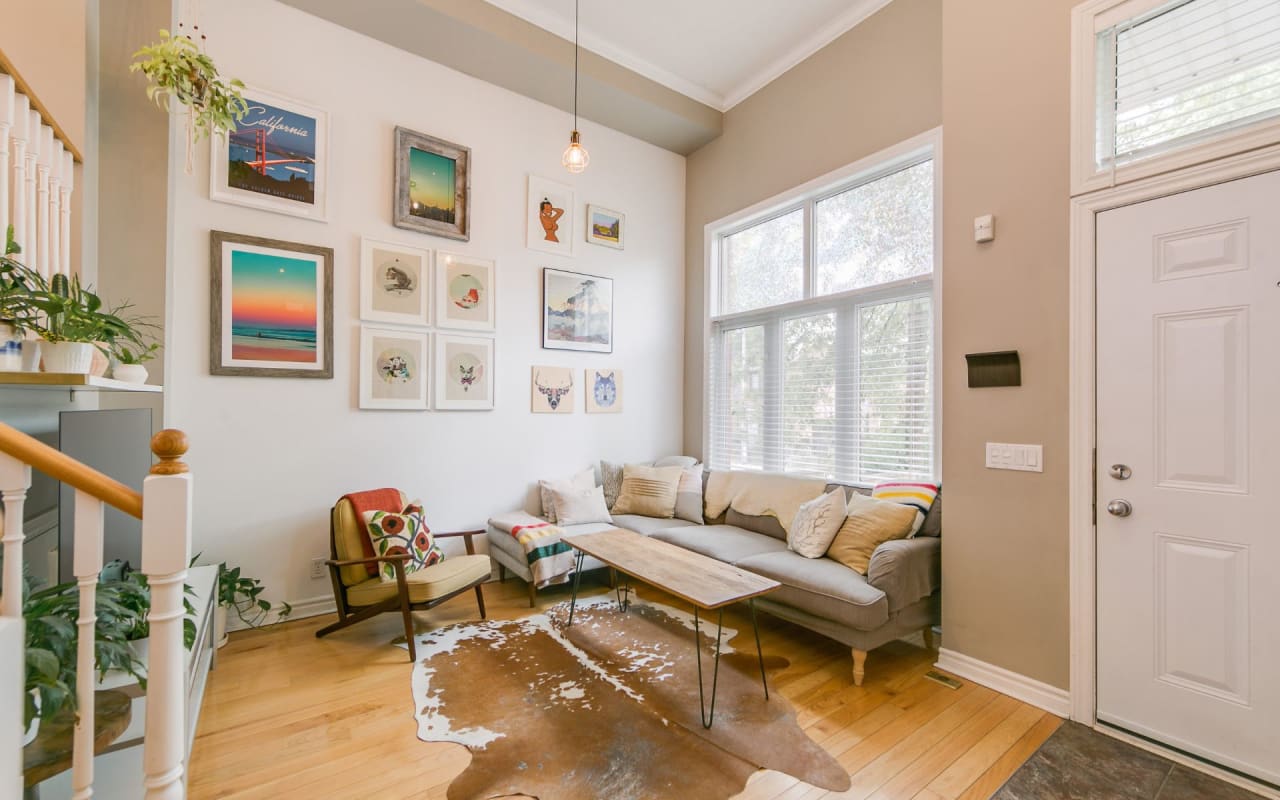 ​​​​​​​Fun colours and eclectic patterns don't have to make a living room look overwhelming or twee. For a –inspired living room design, start with an all-white foundation and add flair with bright, bold throw pillows and unusual art pieces (think sculpture, coloured glass, and even faux taxidermy) in all the colours you love best.

Design tip: The key to this look is curation. Keep an eye out for punchy fabrics and bespoke antiques—matching not required!

​​​​​​​Rustic Chalet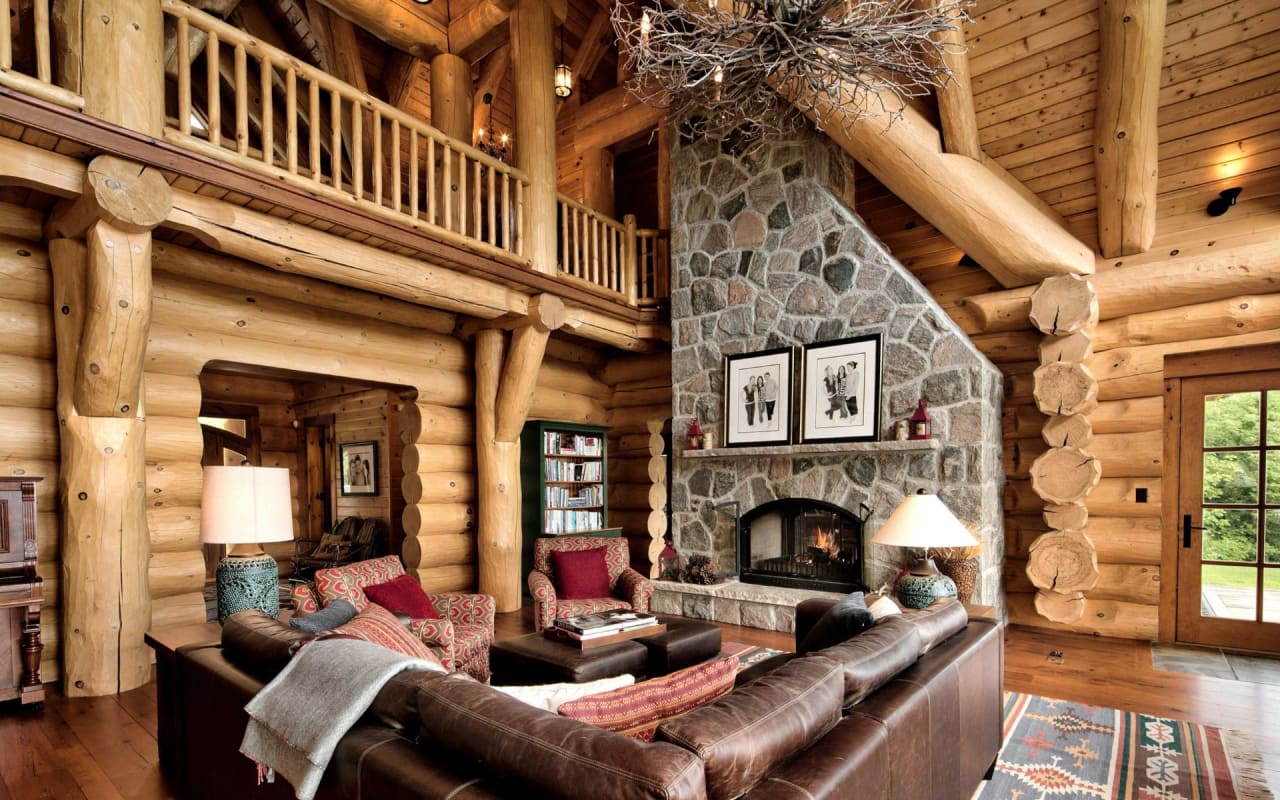 ​​​​​​​Evoke the feel of a snug evening at the cabin in your own home with a rustic chalet living room design. An enormous stone fireplace is the classic central feature to this design, rising up to soaring wood beam ceilings. Warm up hardwood floors with a large Persian area rug, and incorporate hints of pattern—think checks and toile—throughout. Unfinished wood adds rustic charm to any room: scavenged driftwood or live-edge tables are a perfect finishing touch.

Design tip: Keep the trappings of coziness nearby—store blankets in a repurposed trunk or wicker basket.

​​​​​​​Modern Contemporary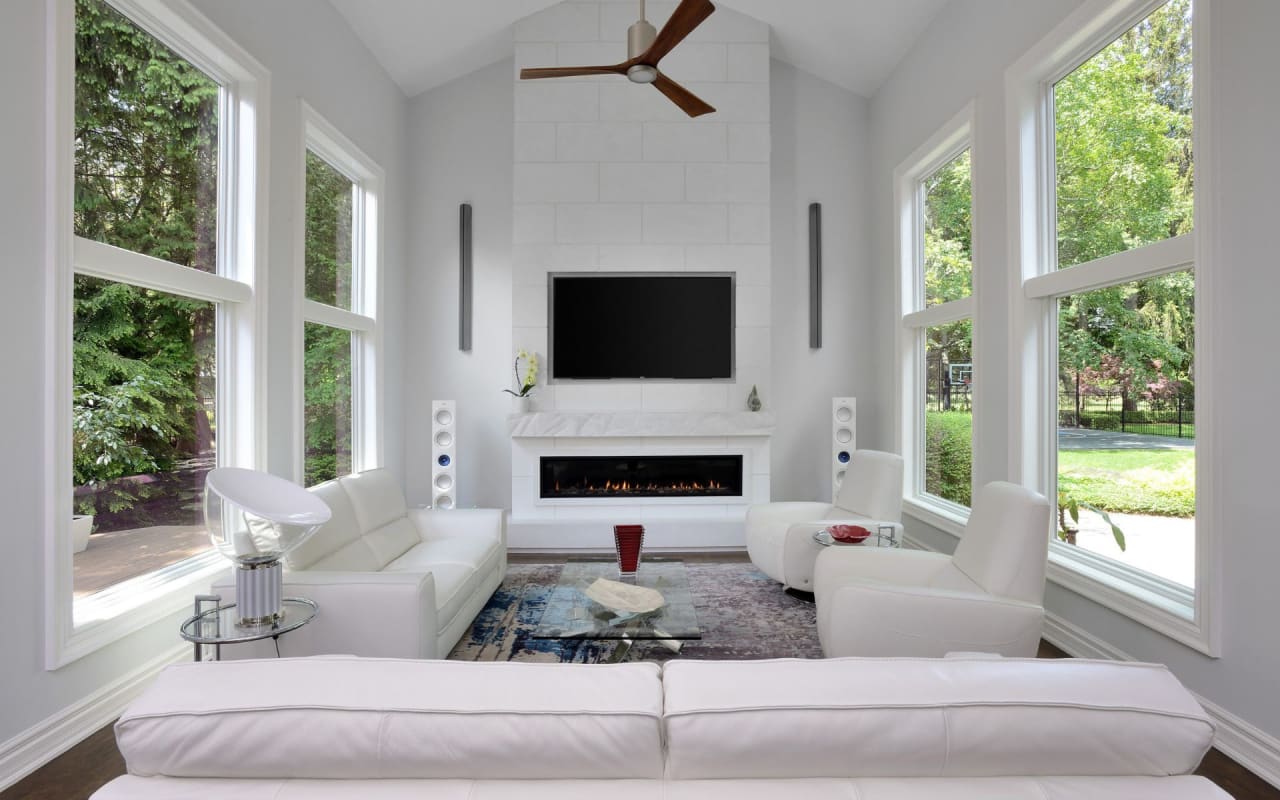 ​​​​​​​Clean and streamlined, modern style is characterized by a neutral color palette, strong geometric shapes and asymmetry. The most common features of a modern interior are white walls and neutral tone-on-tone color schemes. The words sleek, smooth and polished will come to mind when you think of this design style.

Whether your idea of the perfect evening involves an elegant cocktail party or a quiet conversation in overflowing easy chairs, your living room design sets the tone for the changing seasons of your home.
---